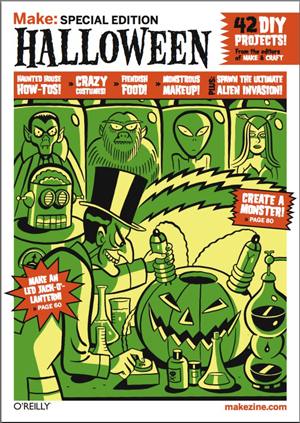 Mindy and Eric will be pleased to learn that I have acquired the 2007 Halloween Special Edition of Make Magazine. Now, the magazine has fewer glow-in-the dark ideas than we were hoping for, but it did have some interesting articles that with a bit of creativity could be reused on the playa. (If recreating a haunted house on the playa was our thing, we could use the whole issue, but that's neither here nor there).
The "Headless Marie Antoinette Costume" article has instructions on how to create lightweight foam shapes from plaster molds for use in costumes. Key ingredient I didn't know about previously: FlexFoam-iT X liquid foam, which apparently dries into a nerf-like substance after it has been poured into a mold. Sounds not too different from the minimally-expanding foam you get at home-improvement stores, but probably easier to work with.
There is also a super-easy craft "Diabolical Horns." Basically, you use air-dry craft clay, shape the horns, put toothpicks in them to make holes for an elastic string that will hold them onto your head, let them dry, then decorate. The article calls for glue and red glitter, but paint should work too. Mold the clay a different way, and you'll get a different headpiece. I'm sure there are all kinds of air-dry clays, but here are two I came up with quickly with a search at Michael's craft store website: Crayola Model Magic Fusion and Paperclay.
For light-up magic, there is a Cylon jack-o'-lantern project that incorporates LEDs into the eyepiece of the (old-school) cylon. The people that made this pumpkin have a fairly cool website of their own: http://www.evilmadscientist.com/
(pause while Alison gets distracted by looking at multiple LED projects)
There was one final project in the issue that caught my eye, though it will be too bulky for us to bring. The "Ultimate Fog Chiller" creates cool fog by taking a fog machine and passing the output through a trashcan filled with ice via an aluminum dryer hose. DIY air-conditioning! How cool would it be to get a blast of cool air on a hot desert day? Anyhow…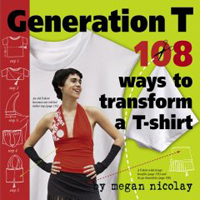 In the spirit of the 2007 Green Man, I was compelled to purchase this book, "Generation T: 108 Ways to Transform a T-Shirt," which outlines how to deconstruct an old T-shirt and modify it into something new. If you're like me, you have a collection of old, too-big, too small, or dorky corporate t-shirts that are just sitting around and taking up space in your wardrobe. Why not recycle them into a playa-fabulous outfit? It's cheap, and some of these costume ideas do not even require sewing. Sweet.