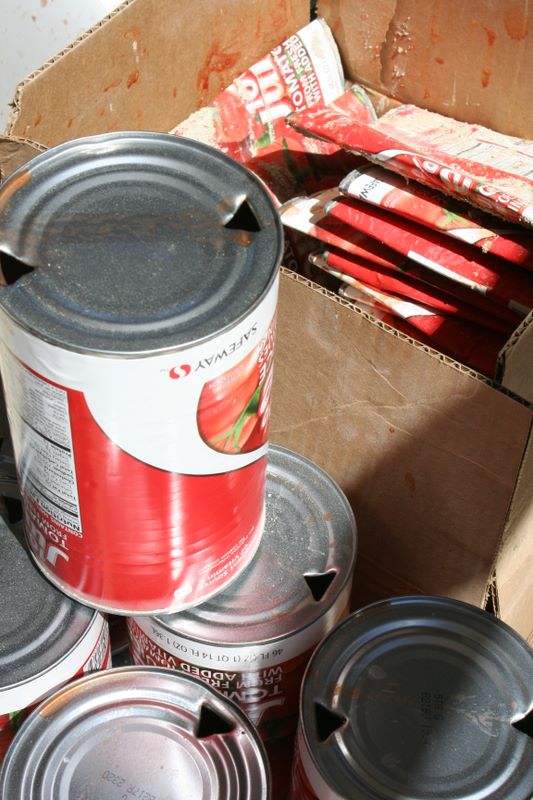 Camp BloodyMaryLand's signature contribution to Burning Man is of course, our fantastic bloody mary bar.
In 2014, we are planning to be open, but you won't find us in the guide this year. Days are to be determined still. We may also open unofficially at other times, and if you stumble upon our camp when the bar is closed, we prefer bribery and gifts to simple demands of "MAKE ME A BLOODY MARY", though both tactics have been successful in getting us to mix an extra drink or two.
2012 BAR SUPPLIES
– Tomato Juice:    80 cans , 46 oz ea (12 cans per case) [ended up with plastic bottles]
– Vodka:    18 Handles of Gilbeys
– Can Openers:    2-3 good ones
– Bar (Burn) Rags:    Cheap, burnable to clean up spills
– Buckets:    For ice/water
– Celery:    One small coolers worth
– Black Pepper:    One big shaker
– Texas Pete:    Two big glass bottles
– Old Bay:    Big-ass shaker
– Horseradish:    Big jar and little jar
– Lime Juice:    Two big glass bottles
– Beef Broth:    4 big boxes
– Worcestershire:   Big bottle and little bottle
2012 Bar Construction Materials
2×3's    11
4×8 OSB    2 sheets
Cut 2×3 into these lengths
6′ qty 3
7′ qty 2
2′ qty 4
3′ qty 5
8′ qty 1
Cut OSB into these shapes
36″x72″ qty 1
24″x36″ qty 2
24″x72″ qty 1
Box of 2″ drywall screws
Small box of 3″ drywall screws
Use scraps to make lower shelf for bar
---
In 2010, we were  officially open on Wednesday morning. .
---
2008 Bar Packing List, from our pal Bort
– 25 handles Gordon's vodka = 11.5 gallons
– 137 x 46oz cans tomato juice = 49 gallons
– 2 x 1lb cans (plus whatever Mindy has) Old Bay
– 1 gallon bottle Worcestershire (way too much)
– 4 x 46oz cans beef broth = 1.43 gallons (way too much)
– 1 gallon bottle hot sauce (way too much)
– 1 lb powdered horseradish
– 34oz jar ground black pepper (way too much)
– 5 x 16oz bottles (plus whatever Mindy has) lime juice
– A plan to cut up an assload of celery and pack it in water the day
before I leave
– Two "Store 'N Pour" bottles for beef broth
– Six plastic squeeze bottles for prepared horseradish,
Worcestershire, and hot sauce
– Two pizza-style oregano shakers for old bay.  (Gotta get another two
for pepper.)
– Ryan has two pails with spigots for mass mixing.
– Two big-ass plastic cups and two cheap plastic shakers (all from
goodwill) for mixing drinks.
Tomato juice, lime juice, and vodka will be mixed in the pails.
Virgin drinks (a rare request) can be mixed by hand.
Non-vegetarians get worcestershire and beef broth.  Non-pussies get
horseradish and hot sauce.  Everybody gets a dash of pepper and old
bay, and a celery stick to top it off.
---
See all posts tagged "Bloody Mary Bar". These are our thoughts in progress.Thoughts on bar improvement from last year.
---
Music
Hangovers require mellow tunes. And because we're a class act, you get ultra-lounge music when you visit the BloodyMaryLand bloody mary bar. It's hard to explain… Try listening!
On Pandora:
"Lounge Singers and Piano Bar"
"Martin Denny Radio"
Vegas Vic's Podcast:
http://www.vegasvics.com/
Freshly installed Bloody Mary Bar from our 2004 camp: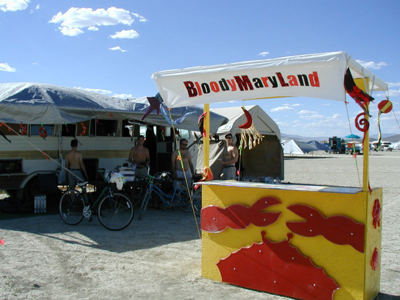 More Photos